HS2 Completes First Cross Passage
The mega project HS2 has reached a milestone by completing the first of the 38 cross pages in the 10-mile-long Chiltern Tunnels.
The tunnels will carry high speed trains between London and the Birmingham at speeds of up to 200mph (320km/h). They are being dug by the TBMs "Florence" and "Cecilia" which are currently approaching the 4-mile mark.
Align, the HS2's main works JV, provided a team of experts to complete the SCL cross passages and to install a water-proof membrane followed by a secondary cast-in-place concrete lining. Once the cross passages are complete, the safety doors can be installed at either end.
Gall Zeidler Consultants (GZ) as part of the Align Team, provided the design for all cross passages, the ground treatment design and are serving as a geotechnical specialist. GZ's scope also includes the development of the Geotechnical Baseline Report, the Durability Report and Tunnel Obstructions Assessment as well as the Settlement and Potential Damage Assessment.
For complete HS2 press release, visit this site. If you are interested in GZ's involvement with the project, visit our project page.
Click video below and view HS2's footage about the completion of the first cross passage: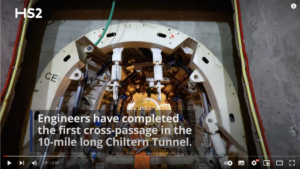 Copyright of the footage holds HS2.