BART Extension Receives FTA Funding Commitment
The VTA's BART Silicon Valley Phase II Extension Project was formally selected for funding through the Expedited Project Delivery (EPD) Pilot Program according to a recently published Tunneling Journal article. The VTA received the announcement through a Letter of Intent (LOI) from the Federal Transit Administration (FTA). The EPD Program will cover 25% of the costs and the remaining 75% will be funded from state and local sources. The premise of the EPD funding program is to expedite project delivery and bring public benefit sooner.
The Phase II Projet which will be the biggest infrastructure project in Santa Clara County history, is an approximately 6 miles (9.65 km) extension of San Francisco, California's Bay Area Rapid Transit (BART) service from the SVBX terminus at the Berryessa Station and includes 5 miles (8 km) of subway tunnel, continuing through downtown San José, and terminates at-grade near the Santa Clara Caltrain Station. The project encompasses three below-ground stations, one at-grade station, and a maintenance facility, Newhall Yard. Passenger service is planned to begin in 2030.
Gall Zeidler Consultants (GZ) is an integral part of the Program Management Team for all tunneling aspects of the VTA's BART Silicon Valley Phase II Extension Project together with HNTB/WSP Joint Venture. GZ has been providing conceptual engineering development for TBM and mined SEM tunnels.
To read more about GZ's involvement in the VTA's BART Silicon Valley Phase II Extension Project, visit our project page.
For complete Tunneling Journal article please visit this site.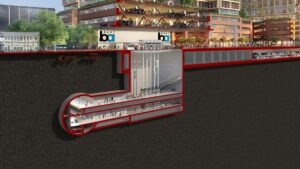 Artist rendering of Downtown San José Station (Courtesy of VTA).