LIRR Service to Grand Central Just Opened
The Long Island Rail Road (LIRR) service to Grand Central Madison openend, Wednesday, January 25, 2023, after years of construction. Known previously as the East Side Access Project, it connects LIRR's Main and Port Washington lines to the new terminal beneath Grand Central Terminal in Manhattan, NY.
The first train was set to leave Jamaica Station at 10:45am today with an arrival time of just 22 minutes later in Grand Central Madison Terminal. For the first few weeks of this launch phase, the LIRR will operate a limited shuttle service between the Jamiaca Station in Queens and Grand Central Madison Terminal in Manhattan until customers familiarize themselves with the new terminal. The schedule for full service will be released at a later date. Once the full service has been initiated, the LIRR expects train service to increase by 41%.
For more than 21 years, Gall Zeidler Consultants (GZ) has been involved in the tunnel engineering and construction management for this Program. GZ participated in the tunnel and the cavern design, structural and geotechnical instrumentation and monitoring programs, waterproofing and final lining design, and construction management and inspection services.
We congratulate the MTA on this significant milestone and are proud to be part of the program accomplishments from early design stages through construction, ready for operation and beyond.
To learn more about GZ's involvement with the project, visit our project page.
To access the full article, please visit this link.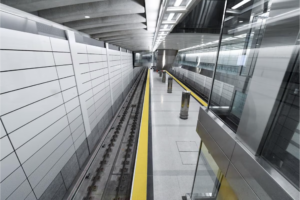 Finished underground train station at the new terminal at Grand Central Terminal. (Courtesy of Marc A. Hermann/MTA)