Tuscarora Project Awarded the 2022 Outstanding Shotcrete Project Award
The American Shotcrete Association (ASA) announced the recipients of the 2022 Outstanding Shotcrete Project Award. The Tuscarora Tunnel Rehabilitation Project in Pennsylvania is one of the award winners who were honored at the 8th Annual ASA Awards Banquet held in conjunction with ASA's 2023 ASA Shotcrete Convention and Technology, on February 28, 2023, at the Ojai Valley Inn, Ojai, CA.
The Tuscarora Project encompasses the rehabilitation of the twin highway tunnels, which have experienced water infiltration from the mountain above that has led to deterioration of the concrete tunnel lining and suspended concrete ceiling.
Gall Zeidler Consultants (GZ) is working with Gannett Fleming on the final design of the rehabilitation work of the tunnels, which includes new ventilation system, lighting, fire life safety systems, roadway drainage, and structural repair. GZ is responsible for the waterproofing design for both tunnels. As the eastbound tunnel is experiencing worse deterioration than the newer westbound tunnel, the remediation work in the eastbound tube includes demolishing the existing ceiling slab and installing a new waterproofing system and shotcrete final lining. For the westbound tunnel, new groundwater relief holes and drainage system will be installed to collect and divert water entering the tunnel.
For complete Decorative Concrete Press Release, visit this site. If you are interested in GZ's involvement with the project, visit our project page.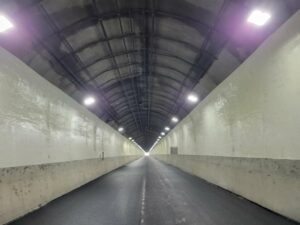 Completed Tuscarora Tunnel Shotcrete Lining and Waterproofing System.