HS2 TBMs Reached Longest Tunnel Halfway Point
The two giant tunnel boring machines (TBM) 'Florence' and 'Cecilia' have passed the halfway point of the 10-mile tunnels under the Chilterns. For the past 18 months, the two identical 2,000 tonne machines have been excavating the twin tunnels between the M25 and South Heath in Buckinghamshire to improve connections between London, Birmingham and the North.
Each TBM is operated by a team of 17 people, working in shifts to keep the machines running 24/7. An additional team of over 100 people manage the logistics and maintain the smooth progress of the tunnelling operation.
Another milestone of the mega project HS2 is the completion of the excavation of five shafts that will provide ventilation and emergency access near Chalfont St Peter, Chalfont St Giles, Amersham, Little Missenden and Chesham Road. The first breakthrough from a cross passageway to the shaft at Chalfont St Peter has also been completed recently.
Gall Zeidler Consultants (GZ) as part of the Align Team, provided the design for all cross passages, the ground treatment design and are serving as a geotechnical specialist. GZ's scope also includes the development of the Geotechnical Baseline Report, the Durability Report and Tunnel Obstructions Assessment as well as the Settlement and Potential Damage Assessment.
For complete HS2 Press Release, visit this site. If you are interested in GZ's involvement with the project, visit our project page.
View HS2's footage on the progress of the two giant TBMs: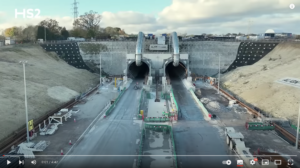 Copyright of the footage holds HS2.