GZ at Silver Line Extension Opening in VA
GZ was given the opportunity to attend the Grand Opening Event of the Silver Line Exenstion on Tuesday November 15th at the new Washington Dulles International Airport Metrorail Station. The opening ceremony was led by the Chair of the WMATA Board of Directors, Paul Smedberg, and WMATA General Manager and CEO, Randy Clarke. In addition to a large audience of stakeholders and industry leaders, the event also welcomed local politicians and members of Congress from Virginia and the District of Colombia, that were instrumental in advancing the project from its conception to completion. The ceremony concluded with a celebratory ribbon cutting and an inaugural train ride to the terminus station in Ashburn, VA for those in attendance.
The 23-mile long extension includes a total of 11 new stations, six of which were completed as part of Phase II of the project.  With a the terminus station at Ashburn, Virginia in Loudoun County as well as a station at Dulles International Airport, the extension provides critical connectivity and public transportation deep into the populous Northern Virginia as well as to one of the region's busiest airport hubs. More than 450 employees will operate and maintain the new stations, rail yard, and tracks.
Gall Zeidler Consultants (GZ) has been deeply involved in this project. As part of the DB team, GZ provided tunnel and station design services from the conceptual to final engineering stages of the project for Phase I, serving as the Engineer of Record for the twin NATM tunnels through Tysons Corner. During construction of the tunnels, which traversed beneath a major roadway with shallow cover, GZ provided engineering support to the construction team as well as inspection services. The NATM tunnel at Tysons Corner earned an Excellence in Automation Award from the American Society of Civil Engineers (ASCE) and was a finalist for the International Tunneling Awards in 2011.
GZ also developed the conceptual design for Phase II tunnels and station caverns, including design drawings, specification, structural calculations and construction cost estimates. Ultimately, an at-grade and above-ground alignment was selected for Phase II. During construction of Phase II, GZ was selected to manage the Aerial Structure's Design and Construction Engineering on behalf of WMATA. The oversign role entailed review of Contractor submittals, including the contractor's design and shop drawings during construction of all aerial viaducts, including parts of the stations, tracks, and structures in the storage yard.
For more information about the Silver Line Extension, please visit this site. To learn more about If you are interested in GZ's involvement with the project, visit our project page.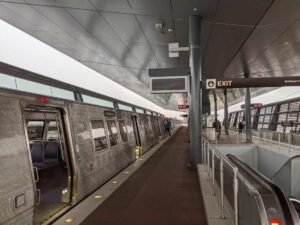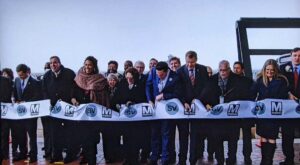 Photos of the Grand Opening of the Silver Line Extension showing trains stopping at Washington Dulles International Airport Station and the Ribbon Cutting ceremony.