Grand Opening of Seattle's Northgate Link Extension
According to a recently published article in the Tunnel Business Magazine, the Northgate Link Extension celebrated its grand opening to passengers on October 2, 2021. The new 4.3-mile extension of Washington Sound Transit's light rail system connects the Northgate, Roosevelt, and U District neighborhoods to downtown Seattle and the airport. The $1.9 billion three-station extension includes three miles of tunnel and 2,200 ft of aerial guideway. The project has started back in 2008 with the voter approval of the plan, followed by the begin of the construction work in late 2012 with demolition of Roosevelt station. As the U District, Roosevelt and Northgate neighborhoods have undergone major development over the past decade, the need for transportation hubs for these multi-modal and walkable communities has increased and the stations are now ready to serve their purpose.
Gall Zeidler Consultants provided expert consulting services to the contractor joint venture JCM, consisting of Jaydee, Coluccio and Michels JV, including the development of construction drawings for the excavation of 23 cross passages. In addition, GZ assigned SEM experts to provide site support services during cross passages construction.
For complete Tunnel Business Magazine article please visit this site.
To read more about GZ's involvement in this project, visit our project page.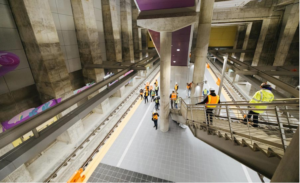 Work on the underground Roosevelt Station, part of the new Sound Transit Northgate Link Extension for light rail north of Seattle (Courtesy of Sund Transit).