GDC Releases Promising Forcast of Gateway Program in 2023
In a letter from Gateway Development Commission (GDC) CEO Kris Kolluri to its Board of Comissioners, indicated that GDC has not only accomplished more in its work on the Hudson Tunnel Project in 2022 than any other year thus far, but also committed to transition the project from planning to reality in 2023.
For 2023, the GDC is planning on:
Starting the early work on the Hudson Tunnel Project, focusing on the Tonnelle Avenue portal to the underground portion of the project and completing the Hudson Yards Concrete Casing
Finalizing the Risk Assessment process for the Capital Investment Grant with the FTA, and developing agreement for full funding
Increasing the Federal share of the project by funding through Federal-State Partnership grant program and decreasing overall costs by up to $1.4 billion.
Finalizing the contract packaging plan through close cooperation with the private sector
Ensuring industry participation including large companies, local firms and DBEs to establish a true partnership in delivering the Hudson Tunnel Project
Gall Zeidler Consultants (GZ) is providing Program Management Support Services (PMSS) as part of the Hill International led contract for AMTRAK. The PMSS include, but are not limited to reviewing, commenting, and providing advice on: the Preliminary Engineering Design, Constructability issues, the Geotechnical Investigation Program, the Instrumentation and Monitoring Program, Ground Improvement Techniques, Contract Packaging and Procurement Strategies, Construction Cost Estimates, Construction Schedules, and on the preparation of Bid Documents.
For the full letter, please click this link. To read more about GZ's involvement in the Gateway Program, visit our project page.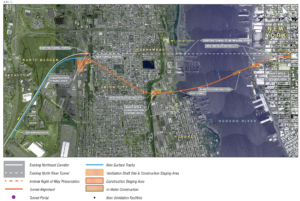 Preferred Alternative of the Hudson Tunnel Project (Courtesy of Hudson Tunnel Project)