Chinatown Station Project Awarded the ITA 2020 Project of the Year
We are excited to announce that the Chinatown Station as part of the Central Subway Program in San Francisco is awarded the ITA 2020 Project of the Year for projects between €50 million and €500 million by the International Tunnelling and Underground Space Association (ITA).
Gall Zeidler Consultants provided Expert Design Review services on the SEM tunneling for Chinatown Station and associated SEM caverns as well as site supervision services during construction. To read more about GZ's involvement in the project, visit our project page.
For more information, follow the link to the ITA announcement.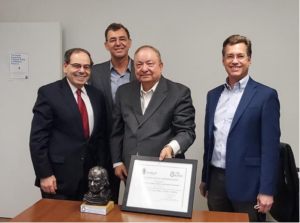 Presentation of the award by AECOM/Gall Zeidler Consultants to Nadeem Tahir, SFMTA Program Director, in November 2021. Attendees left to right: Nasri Munfah, Vojtech Gall, Nadeem Tahir, Jon Porterfield.