Construction on Gateway Hudson Tunnel Will Ramp Up in 2022
The construction on the proposed Gateway Hudson Tunnel connecting New York and New Jersey will increase considerably in 2022, according to a recently published BNN Bloomberg article. After the $11 billion project received federal approval earlier this year, Amtrak's CEO Bill Flynn said that there will be seen substantially more work on the tunnel in the time frame between 2022 and 2023.
The Hudson Tunnel will provide a connection between New York and New Jersey for Amtrak's and New Jersey Transit's commuter trains under the Hudson River. According to Amtrak it will allow for twice as many trains to run under the river, including those that are part of its Northeast Corridor service that connects Boston, New York and Washington.
Gall Zeidler Consultants are providing Program Management Support Services (PMSS) as part of the Hill International led contract for AMTRAK.
For complete BNN Bloomberg article please visit this site.
To read more about GZ's involvement in this project, visit our project page.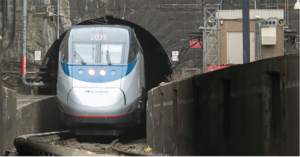 Amtrak train at the existing North River Tunnel Portal in Bergen, NJ (Courtesy of Amtrak).