WMATA's Yellow Line Will Reopen in May
The Yellow Line in Washington D.C. will reopen on May 7th after 8 months of extensive repair work between Pentagon and L'Enfant Plaza stations. The Washington Metropolitan Area Transit Authority (WMATA) began restoring the Yellow Line bridge and tunnel in September last year with passengers using shuttle buses or the Blue Line instead.
In order to prevent water from leaking into the tunnel and repair structural damage, the steel tunnel liner plates were inserted and various leak remediation methods were utilized. The crews working on the Yellow Line replaced over 1,000 steel plates inside the aging steel-lined tunnel, 88 bearings on the bridge, miles of communications cables as well as other upgrades.
From May 7 on, the Yellow Line trains will run every eight minutes on weekdays between Huntington and Mt. Vernon Square stations. After 9:30 p.m. and on weekends trains will run every 12 minutes.
Gall Zeidler Consultants (GZ), as part of the GEC team, coordinated inspection tasks with WMATA personnel and provided inspection staff for the evaluation and documentation of the conditions of the steel panels and associated features. GZ also participated in developing the report summarizing the inspection findings, suggesting remediation methods, providing remediation recommendations, and performed site visits during construction.
For complete NBC Washington News article, visit this site. If you are interested in GZ's involvement with the project, visit our project page.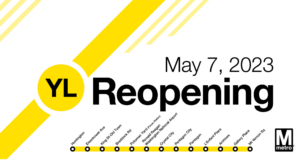 Yellow Line Stations (Courtesy of Metro, WMATA).