Silver Line Extension Set to Open
The second half of the Silver Line in Northern Virginia with its 11.5-mile extension is set to open on November 15. It will connect the Dulles International Airport deeper into Washington's suburbs. The completion of the 23-mile line will add six stations (Reston Town Center, Herndon, Innovation Center, Dulles Airport, Loudoun Gateway and Ashburn), coming 13 years after the first phase broke ground.
Phase I of the the $3 billion project broke ground in 2009, with the start of passenger service five years later. Construction on Phase II of the project began in 2014 and was initially scheduled to open in 2018 but has been pushed back with delays.
The Metropolitan Washington Airports Authority (MWAA) oversaw construction of the Silver Line extension. With completion of construction, the agency will soon hand full ownership to the Washington Metropolitan Area Transit Authority (WMATA), Metro, which has been running tests on the line for over four months.
Gall Zeidler Consultants (GZ) as part of the DB team provided tunnel and station design services from the conceptual to final engineering stages of the project for Phase I, serving as the Engineer of Record for the twin NATM tunnels through Tysons Corner. During construction of the tunnels, which traversed beneath a major roadway with shallow cover, GZ provided engineering support to the construction team as well as inspection services. The NATM tunnel at Tysons Corner earned an Excellence in Automation Award from the American Society of Civil Engineers (ASCE) and was a finalist for the International Tunneling Awards in 2011.
GZ also developed the conceptual design for Phase II tunnels and station caverns, including design drawings, specification, structural calculations and construction cost estimates. Ultimately, an at-grade and above-ground alignment was selected for Phase II. During construction of Phase II, GZ was selected to manage the Aerial Structure's Design and Construction Engineering on behalf of WMATA. The oversign role entailed review of Contractor submittals, including the contractor's design and shop drawings during construction of all aerial viaducts, including parts of the stations, tracks, and structures in the storage yard.
For complete The Washington Post article, visit this site. If you are interested in GZ's involvement with the project, visit our project page.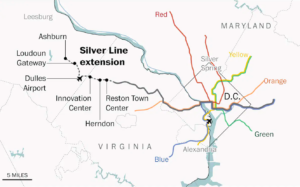 Silver Line Extension Alignment. Copyright of the graphic holds WMATA.