Passage of Infrastructure Bill Providing Federal Funding for Gateway
After the Senate's earlier approval, the passage by the U.S. House of Representatives of the bipartisan infrastructure legislation is welcomed by the Gateway Development Commission according to the Gatway Program Newsletter. With President's Biden expected signature, the bill will put an extra $8 billion into the Capital Investment Grants Program providing the bulk of the federal funding for the two main components of the Gateway Program: the Hudson Tunnel Project and the Portal North Bridge. Another important potential funding source for the Gateway Program projects is the additional $24 billion in the Federal-State Partnership for State of Good Repair Program.
Especially for the hundreds of thousands of riders who utilize the Northeast Corridor daily, the bill will mean relief by finally replacing the old Portal Bridge and building a new two-track Hudson River rail tunnel.
Gall Zeidler Consultants provides program management services for the Gateway Program as part of the Program Management Support Services (PMSS) scope under Hill International for AMTRAK. Among others, GZ's services included design review, geotechnical and ground improvement services, constructability analysis, risk management support, and consulting advice services for the Hudson River Tunnels and review of construction related embankment settlements and bridge structure structural details for the Portal North Bridge. To read more about GZ's involvement in the Gateway Program, visit our project page.
For complete Gateway Program Newsletter article please visit this site.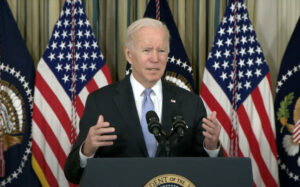 President Joe Biden announces the infrastructure bill's passage. (WH.GOV)