Mega Project Crossrail Will Open Soon For Passenger Service
According to a recently published The Guardian article, 10 of the new stations that are connected to the Elizabeth Line, formerly known as the Crossrail Project, will open in the first half of 2022. The final stage of the construction programme, Trial Operations, is now underway which involves operational and evacuation exercises to ensure the safety and reliability of the railway for public use and to fully test the timetables before line opening.
The line will be bigger and faster than any underground project before, with a system more technologically complex than any outside China, says its chief executive. With a length of 240 meters (788ft) for the new stations and sometimes nine or 10 storeys underground, the Elizabeth Line will carry up to 1,500 passengers at frequencies of up to 24 trains per hour.
The opening of the full line is set for 2023. At this point the line will encompass 118km (73 miles) of track42km, (26 miles ) of it in new tunnels and it will run uninterrupted east-west, across the capital of London and beyond.
Gall Zeidler Consultants (GZ) provided design services for the detailed design, specifications, contract documents and construction strategy of the project's five SCL/NATM/SEM underground stations (Liverpool Street, Whitechapel, Bond Street, Tottenham Court Road and Farringdon). GZ, in addition, provided senior SCL/NATM technical representatives on site during the construction and the tunnel handover period. To read more about GZ's involvement in the Crossrail Project, visit our project page.
For complete The Guardian article please visit this site.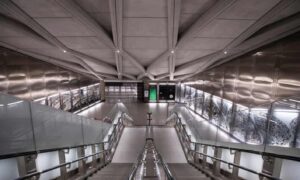 Completed Farringdon Station connected to Elizabeth Line. (Photograph: John Zammit/Crossrail Ltd)