Key Federal Approval for the Gateway Hudson Tunnel Project
The Hudson Tunnel Project as part of the broader Gateway Program gets key federal approval according to a NBC New York article. The US$11.6 billion project includes two main components: the construction of a new two-track Hudson River rail tunnel connecting the National Railroad Passenger Corporation's (AMTRAK) existing Northeast Corridor (NEC) tracks east of Frank R. Lautenberg Station in Secaucus, New Jersey, to the existing rail complex at Penn Station New York (PSNY), and the rehabilitation of the century-old existing North River Tunnel, which incurred serious damage during Superstorm Sandy in 2012. The announcement of the federal funding approval by the Department of Transportation is a huge progress and pushes ahead with engineering and design work on a project that dates back roughly 10 years ago.
Gall Zeidler Consultants are providing Program Management Support Services (PMSS) as part of the Hill International led contract for AMTRAK.
For complete NBC New York article please visit this site.
To read more about GZ's involvement in this project, visit our project page.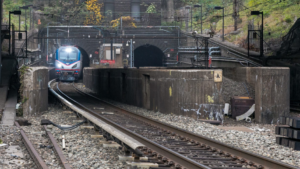 Existing North River Tunnel Portal in Bergen, NJ (Courtesy of Amtrak).