HS2 Project Takes the Next Step
According to a recent article published by TunnelTalk, the HS2 high speed rail project in the UK takes the next step in the order and fabrication of TBMs. Out of 10 TBMs needed for this project, the first three TBMs are on order as part of the central contract package C1, and contract packages N1 and N2 at the north end of Phase 1.
The first two machines will be used for the excavation of the twin tube tunnels through the Chiltern Hills. The third machine is one of two machines, which will excavate the twin tube tunnel to the new Birmingham Station.
GZ are working as part of the Align Team on the tunnel design and serving as a geotechnical engineering specialist on the central contract package C1.
For complete TunnelTalk article, visit this site. For more information on GZ's involvement with the project, visit our project page.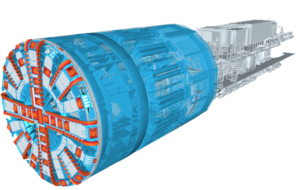 TBM model (Courtesy of Align JV).