HS2 Launches First TBM
The HS2 project takes a further step to realization by launching the first Tunnel Boring Machine (TBM) according to HS2's website. The TBM 'Florence' will dig the first of the two 10-mile long Chiltern Tunnels, part of the total 64 miles of tunnels to be built for Phase 1. The machine is one out of 10 TBMs and with 170 meters of length the largest ever used on a UK rail project. The launch of the second machine 'Cecilia' will follow next month for the excavation of the the second tunnel at the South Portal site of the Chiltern Tunnels. The operator of the first two TBMs will be the joint venture 'Align' formed of Bouygues Travaux Publics, Sir Robert McAlpine and VolkerFitzpatrick. The two TBMs will dig separate tunnels for north and southbound trains with a speed of 15 meters a day while they will operate 24/7. For complete HS2 article please visit this site.
Gall Zeidler Consultants are working on the cross passage design and serving as a geotechnical specialist supporting Align's design partner Align-D. For more information about GZ's involvement in the project please visit the project page here.
View this giant machine at launch site in the helicopter footage of South Portal:
Image shows aerial of Florence, HS2's first TBM that will dig underneath the Chilterns: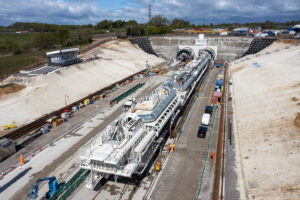 Copyright of the footage and image holds HS2.