Elizabeth Line in London Opens
According to the Transport for London (TfL) website, the new Elizabeth Line, formerly known as the Crossrail Project, is set to open. On May 24, 2022, the line will operate in London as three separate railways, in the east, west and through central London. Nine new stations will be added to the TfL Rail network which will be rebranded to the new Elizabeth line. The station "Bond Street" will open to Elizabeth Line customers later in 2022.
When the final stage is complete, customers will be able to travel seamlessly from Abbey Wood to Heathrow and Reading, and from Shenfield to Heathrow.
Gall Zeidler Consultants (GZ) provided design services for the detailed design, specifications, contract documents and construction strategy of the project's five SCL/NATM/SEM underground stations (Liverpool Street, Whitechapel, Bond Street, Tottenham Court Road and Farringdon) and other SCL structures. GZ, in addition, provided senior SCL/NATM Technical Representatives on site during the construction and the tunnel handover period. To read more about GZ's involvement in the Crossrail Project, visit our project page.
For more information about the new Elizabeth line, please visit this site.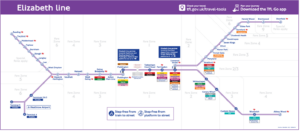 Elizabeth line route, May 2022 (Courtesy of Transport for London)