Continued Progress on Hampton Roads Bridge-Tunnel Expansion
Since the work on the Hampton Roads Bridge-Tunnel Expansion Project in Virginia begun in 2020 with project cost estimated to $4 billion, work continues to progress.
2022, has been a productive year with numerous achievements on this project:
Construction crews finished final preparations ahead of a new, temporary South Island eastbound marine trestle.
The assembly of the Tunnel Boring Machine (TBM) continues.
Crews are also completing work on various approach bridges and roadway widening.
HRBT's Project Director Jim Utterback provided a promising outline for 2023 with "even more impressive accomplishments".
Gall Zeidler Consultants (GZ) is providing independent design verification (IDV) services for the tunnel and tunnel approach structures. The IDV services include a full structural verification of the segmental tunnel lining design for the large diameter dual-bore TBM tunnels, which pass through soft to very-soft alluvial deposits including some thick organic layers. In addition to the lining verification, Gall Zeidler Consultants is performing structural analyses of the large diameter Bi-cell and Tri-Cell tunnel launch and reception shafts located on the north and south islands, respectively. In addition, GZ is providing resident engineering and inspection services to assure the construction is meeting the quality standards.
For complete 3WTKR article, visit this site. If you are interested in GZ's involvement with the project, visit our project page.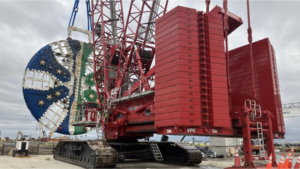 TBM Assembly. (Courtesy of HRBT Expansion)