Completion of East Side Access Major Construction
According to a recently published NBC New York article, the major construction of East Side Access is completed. As one of the largest transportation infrastructure projects currently underway in the United States, the grand opening is set for next year. The $11 billion project provides a connection of the Long Island Rail Road's (LIRR) Main and Port Washington lines in Queens to a new LIRR terminal beneath Grand Central Terminal in Midtown Manhattan. With more than eight miles of tunneling, the new connection will not only help reduce passenger crowding, train congestion and car traffic but will also increase LIRR's capacity into Manhattan and dramatically shorten travel time for Long Island and eastern Queens commuters traveling to the East Side of Manhattan.
Gall Zeidler Consultants has been providing Expert Tunnel Consulting, Tunnel Design, and Construction Management Services for this project for the past 20 years.
For complete NBC New York article please visit this site.
To read more about GZ's involvement in this project, visit our project page.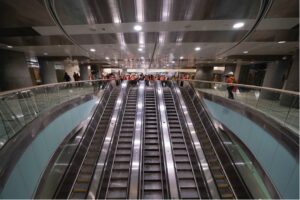 Escalators connect floors in Grand Central Terminal as part of the East Side Access, a train tunnel that will connect rail yards in Queens with Grand Central, Thursday, May 27, 2021, in New York (Courtesy of Daily News).